Safety is your Priority 
Safe drive is always a quite issue, especially on emergency of snow, mud, farm, meadowland, and rural countryside slippery ground. To ensure your safety, each house should consider to have an Anti Slip Tire Chain ( Snow Angle). 
Humanized design of alloy steel, good performance of antiskid,breaking the ice and griping road.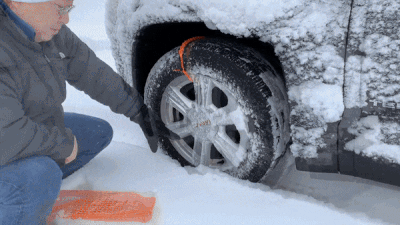 FEATURES: 
Smooth appearance, high strength, good toughness, anti-corrosion, low temperature resistant, does not hurt the tyres. 
Easy for installation, can be installed in accordance with anti-slip requirement, dense-sparse is adjustable. Simple and effective solution to being stranded and disabled in all types of terrain and adverse conditions. 
Gap with space left, keep the tyres grip.
SPECIFICATIONS:
Weight: 60kg
Material: ABS plastic

Model: Sedan, SUV, MPV, etc.
PACKAGE INCLUDED:
1 x Anti Skid Tire Chain
OR
10 pieces x Anti Skid Tire Chain